Welcoming baking industry professionals from every segment and in every role, IBIE delivers a world of benefits in one streamlined event. What do you need to enhance your efficiency, sharpen your skills and elevate your career? It's all here at the largest, most comprehensive baking industry event in the Western Hemisphere.
Every three years, you have a powerful opportunity to discover the latest trends and innovations, connect with colleagues, and exchange ideas with top baking and business professionals. Mark your calendar for September 7-11, 2019 and join the global industry leaders in Las Vegas to capitalize on the big opportunities only found at IBIE.
Game-changing Innovations and Powerful Technology
The industry's newest advances from leading manufacturers and suppliers are all on display at the Baking Expo™. Talk to product experts and get hands-on demos to understand how the latest baking technology, ingredients, and packaging trends can impact your business.
IBIE's 700,000 sq. ft. show floor highlights everything you need to increase your efficiency, improve your operations and boost your bottom line.
A Global Marketplace and Competitive Options
More than 1,000 leading manufacturers and suppliers from across the world are here, ready to provide you with the complete spectrum of products and resources: production equipment and baking supplies, ingredients, packaging materials and systems, refrigeration systems, sanitation equipment, computerized technologies, transportation and distribution equipment. Shop and compare to make the most informed decisions for your business needs.
Cutting-edge Ideas and Focused Training
IBIE's world-class educational program, IBIEducate, is targeted to industry opportunities and challenges, and divided into specialized tracks, offering the most relevant information and training.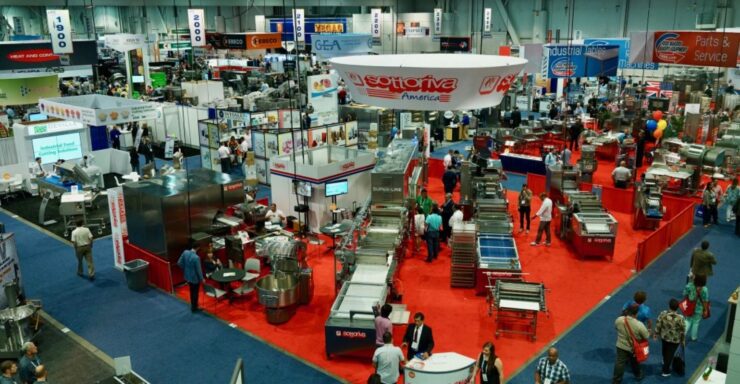 Industry experts and leaders share valuable ideas and strategies that you can implement immediately to improve your product, optimize your production and increase your sales and profits. And don't miss continuous live demos and exciting competitions to inspire your creativity!
New Connections and Profitable Partnerships
IBIE 2016 was the largest show in event history with a 9 percent increase in attendance and a 28 percent larger show floor from 2013—and the 2019 event promises to build on that momentum.
Recognized as one of the Fastest 50 Growing U.S. Trade Shows, IBIE is the destination for everyone in baking. Join more than 23,000 industry professionals for dedicated networking events, productive meetings, and collective success.
Visit ibie2019.com so you can stay up to date with the most recent IBIE news.