Non-traditional fillings and toppings. A comeback for eclairs.  A love for mini wedding cakes. An innovative look at packaging. It takes more than knowing the trends and techniques, you need to understand how to implement them to keep your customers happy and stay competitive in this $50 billion a year market.
Empower your retail bakery to rise above your competition by getting a comprehensive overview of ways to turn your passion and creativity into profit growth and ensure your customers find delight in every bite.
From new product innovations specially geared towards retail baking to the latest on sweetening your skills during certification opportunities, IBIE has new flavors, hot topics, and fresh strategies to help your retail bakery take the cake and provide what your customers are craving.
Educational Opportunities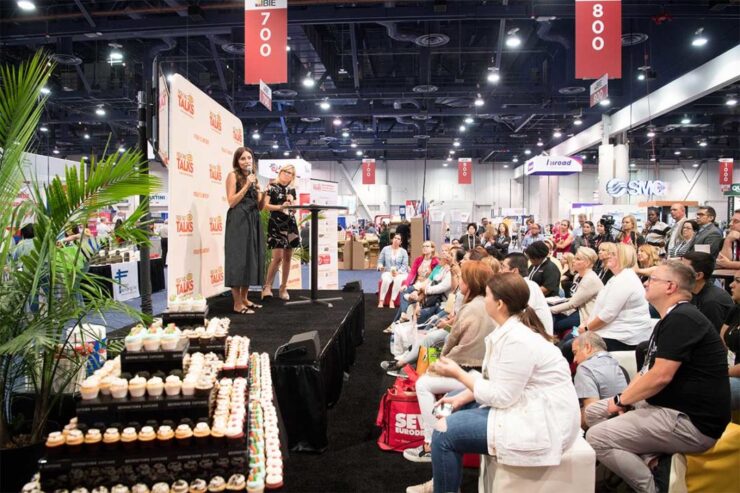 The world-renowned IBIEducate program now offers more quality content specifically designed for pastry chefs and cake decorators than ever before. Learn fresh new ways to approach important topics like trending ingredients, online marketing, wedding packages and much more. Hone your craft further by taking advantage of special two- and four-hour hands-on technique classes too!
Here are some of the session topics hand-picked for professional retail bakers, pastry chefs & cake decorators like you:
Cake Decorator Certifications –Buttercream and Fondant Skills
Trends in Wedding Cakes 2019
Flexique Ruffles, Ribbons and Roses
Color Techniques with Natural Color Over Piping to Lambeth
Unicorns and Animal Face Cakes
Just Gotta Love String Work
Sculpted Cakes
Exhibitors
To innovate, retail bakers & cake decorators must understand what technologies and trends are shaping the market. IBIE's show floor mixes the perfect blend of on-trend ingredients, solutions to cater to health-conscious customers, ways to improve operational efficiencies, and more.
Events That Take Cake
Whether you're learning valuable decorating techniques during the hands-on demonstrations on the show floor, allowing your creativity to take center stage during the Cake Decorating Competition, or getting actionable advice from one of the many celebrity guest pastry chefs, IBIE is the best way to fuel your imagination and gather the intelligence for your retail bakery's growth and competitive success.
Building a Stronger Baking Industry
IBIE is more than an event—it's a community that works together and grows stronger through powerful partnerships with baking associations and publications focused on the mutual goals of creating meaningful & relevant content for retail bakers and cake decorators.